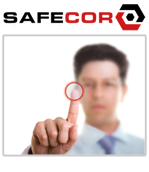 SAFECOR GmbH
★ SAFECOR GmbH | Security and Automation
For Your Safety - complete solutions and individual concepts
As a specialist with many years experience, SAFECOR provides security solutions from one source. From consulting and planning, creation, modernization, upgrade, installation, maintenance and service, SAFECOR offers security technology that is fitted to your needs. SAFECOR is a leader in safe-locks, biometric solutions, turnstiles and the upgrading and management of safe deposit box systems.
★ Products:
- Mechanical security systems
- Organisation, Planning, Training
- Installation, documentation and maintenance
- Hold-up, intruder and theft alarm equipment
- Access control equipment
- Individual devices for electronic security systems
SAFECOR GmbH
An der Strusbek 28
22926 Ahrensburg
Germany

Tel.: +49 40 8668 7410
Fax: +49 40 8668 7412
Email: info@safecor.de
Internet: www.safecor.de

Type of member:
Distributor, Service provider, Certificate holder

Range of products:
Burglary Resistance Products
Fire Resistance Products
High Security Locks
Burglar Resistant Construction Products

SAFECOR SCT-RC2 PV2
Height:
3000 mm
Width:
2000 mm
Product category (standard):
burglar resistant doors (EN 1627)
Product specification
RC 2
Range of products:
Burglar Resistant Construction Products
Main Material:
wood
Number of Leafs:
2
Glazing:
Yes
Skylight:
No
Opens from Inside:
Yes
Opens from Outside:
Yes
This product has no insurance limits to display.