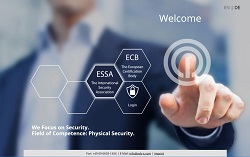 New Design for our Homepage
User-friendly interface in responsive design
Frankfurt/M. – January 2018. We are pleased to present you our updated homepage under the familiar address www.ecb-s.com. Our website comes in a new, more navigable design and offers all interested parties, customers, partners and members extensive information.
The redesigned website will continue to provide information on security products, resistance levels, areas of application, insurance amounts and manufacturers. As before, our focus lays on the simple user interface, which gives you a quick and uncomplicated impression of our entire range of services.
Switch to the archive of older messages.